LinkedIn / Lead Generation / Content & Case Study / Press Releases
Suppliers & Services providers
building a reputation and starting a conversation with buyers
Our approach to business-to-business marketing aims to build long-term relationships by positioning our clients as reputable and established businesses.
B2B companies offering nautical components or services directed to the yachting industry want to be seen by their potential buyers as a reputable, established partner in order to do business with them.
We know very well that business to business marketing has different rules and moves on different channels when compared to marketing to the end users.
For instance, LinkedIn is the most effective platform for getting noticed by buyers in the yachting industry.
We leverage press releases and guest posts to establish our clients as reputable industry leaders.
We take care of writing case studies to show our customer's capabilities and how they successfully deliviered very specific projects.
We also prepare specific presentation and do very personalized lead generation and outreach to buyers.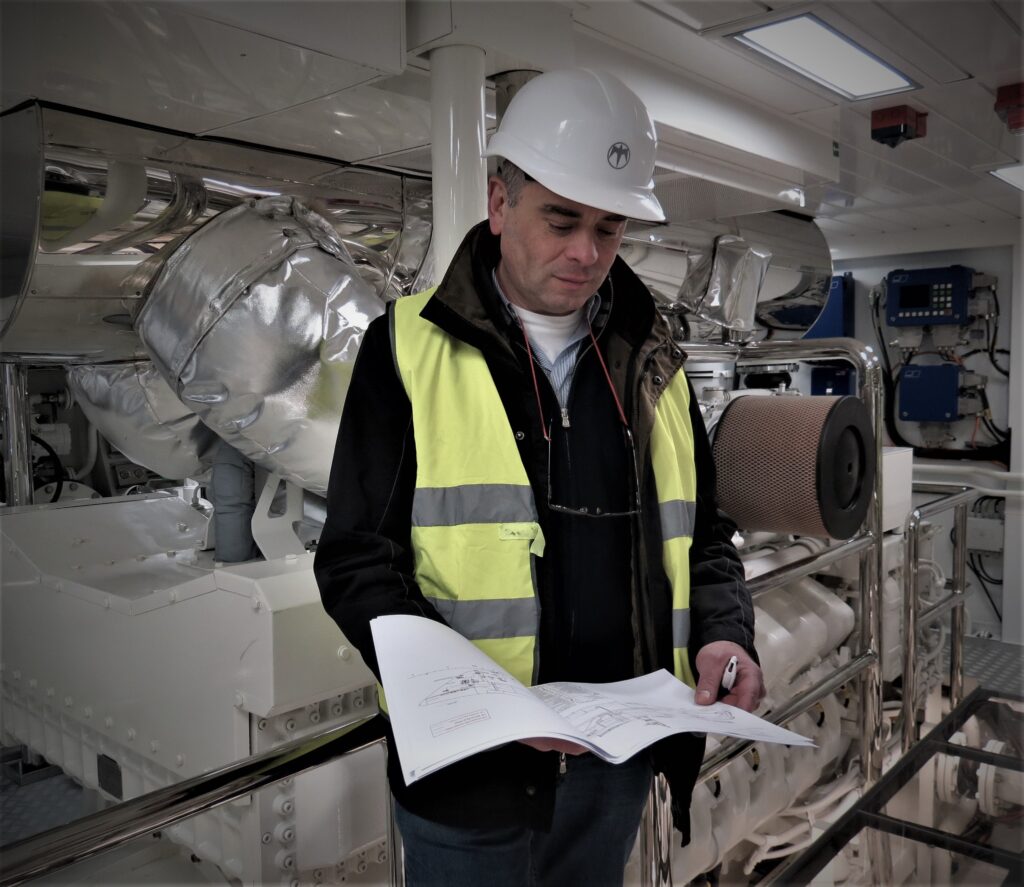 F3Studio is an italian company that specializes in the technical documentation for the superyacht industry.
With over 20 years of experience, F3Studio worked with the most renowed italian superyacht builder such as
Baglietto, Tankoa, Azimut|Benetti, Sanlorenzo, Rosetti, and Maori.
They contacted us to increase their visibility in the industry and expand their business
We began by redesigning the website and gaining a deep understanding of the studio's core value proposition.

Next, we focused on the studio's LinkedIn page.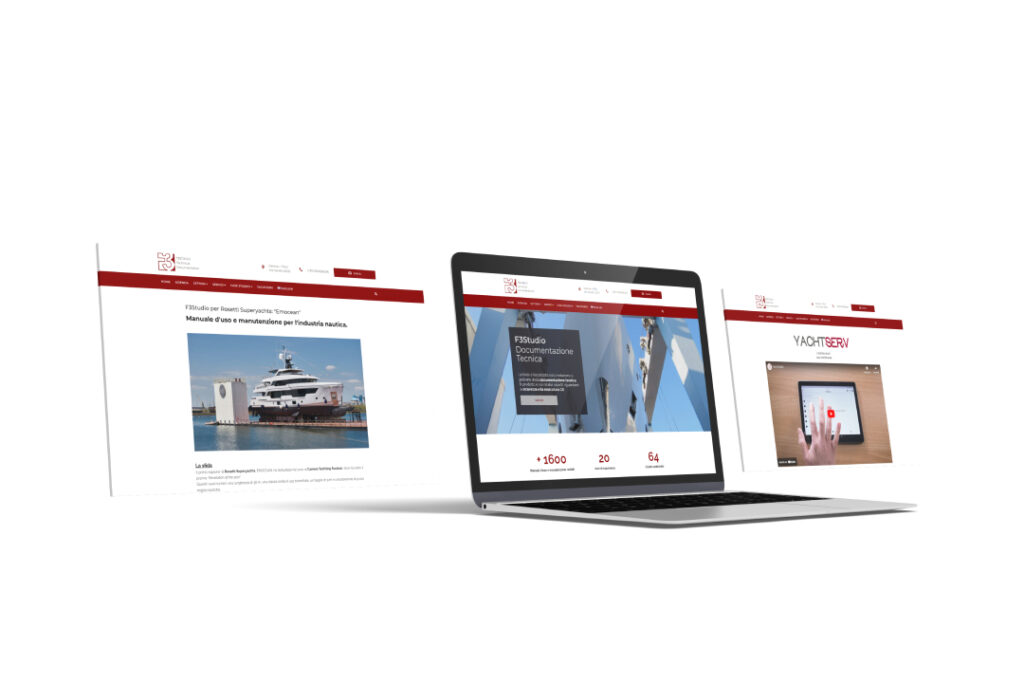 60
Post on LinkedIn each year
We created visually coherent LinkedIn posts and repurposed existing case studies and website content, posting 60 times in the first year and inviting buyers in the superyacht industry to follow the page.



To establish credibility and showcase our client's capabilities, we crafted detailed case studies that highlighted F3Studio's work for their customers. We also interviewed F3Studio's customer and asked for their feedback.
These case studies were not only published on the company's website, but also shared on LinkedIn to reach a wider audience.
Prospective buyers are more likely to be convinced of a company's capabilities when they have access to verifiable information, such as that provided in case studies.
However, writing effective case studies requires a deep understanding of the subject matter and the ability to effectively communicate the key takeaways.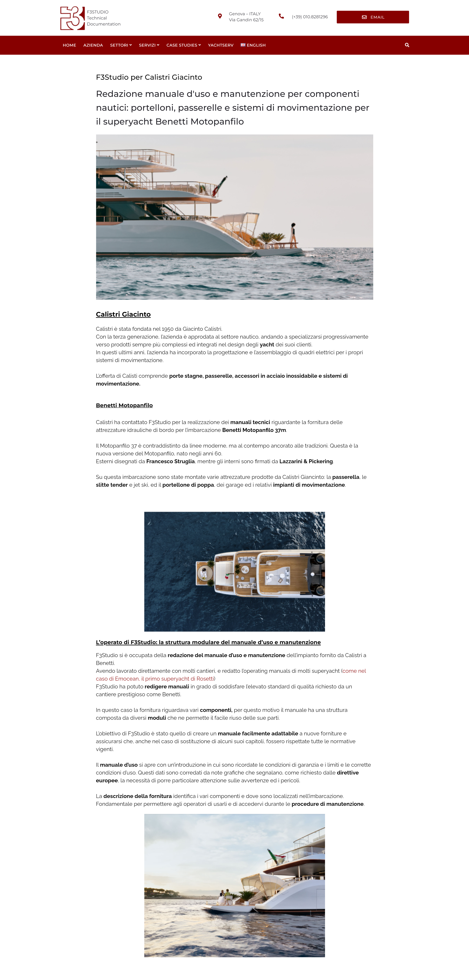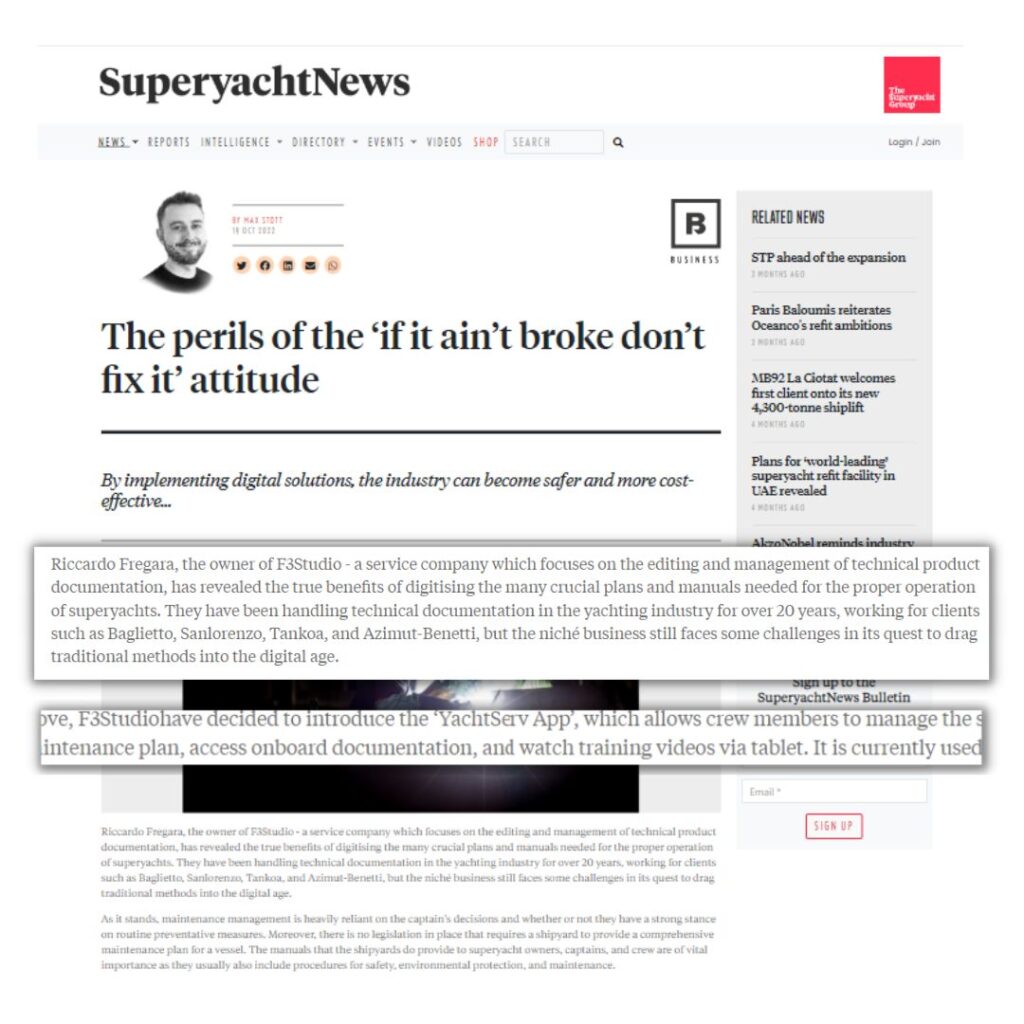 We also introduced F3Studio to journalists and highlighted the importance of technical documentation. As a result, F3Studio was mentioned as an expert in technical documentation in Superyacht News, one of the industry's most widely read magazines.
We shared the article on F3Studio's LinkedIn page to showcase this third-party article that gives credibility to the studio.
This was made possible by the good relationships we have built with journalists over the years, through our efforts in writing, translating and distributing more than 20 press releases.
It was essential to have compelling case studies to present to the journalists, to demonstrate the quality of content we can provide.
To further showcase F3Studio's capabilities, we created specific presentations for different niche industries and reached out to potential buyers proposing meetings to discuss potential collaborations.
All of these efforts were preceded by market research and analysis, to ensure that our approach was tailored to the specific needs of the potential partner and highlighting how F3Studio could help them.
Zedi Sense is an onboard smart sensor that respects guest's privacy and enhances energy efficiency. The company has already secured partnerships in the cruise sector and we supported their efforts to enter the yachting market by distributing a press release.
As a result of our efforts, Zedi Sense was featured in multiple yachting magazines, including Triton magazine, Exclusiv Boote, and Ships & Boat International.
We were responsible for creating and distributing a press release to announce the opening of the first marina managed by IGY in Italy.

The press release highlighted the unique attributes of the IGY Portisco Marina, including its location within Sardinian culture and tradition, as well as its ability to host superyachts with a large draft.

We strategically targeted Italian outlets to generate interest in the marina's opening among potential customers and partners.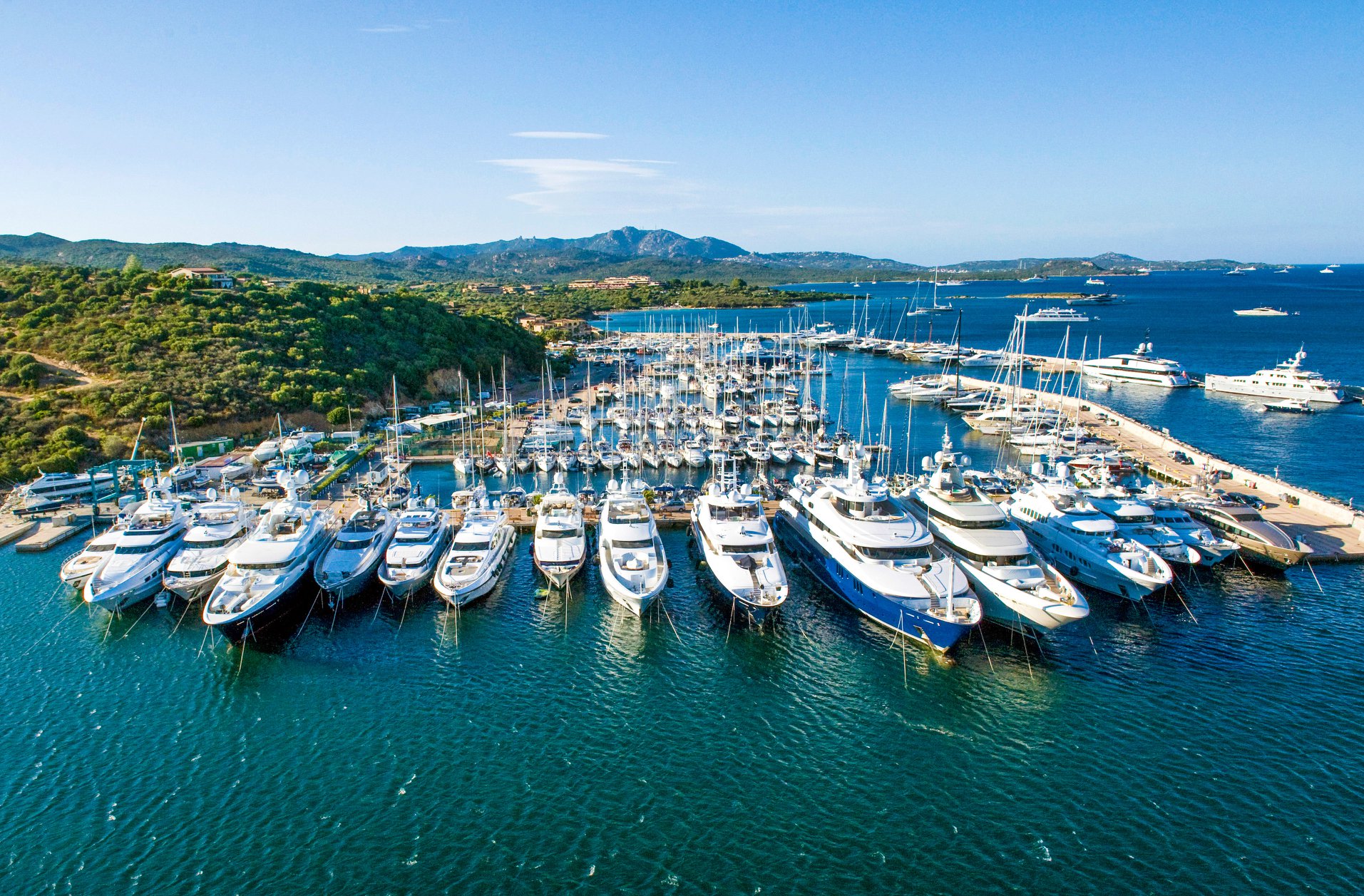 PRESS RELEASES AND SOFTWARE TRANSLATION
We also worked with Marina Ahoy, a SaaS platform for easy marina management that has a strong market presence in the Baltic Sea.

We translated the software into Italian and wrote an article highlighting Marina Ahoy's views on the latest technological trends in marina management.
The article was published in the Cyprus Yachting Magazine, which was distributed at the 2019 Limassol Boat Show.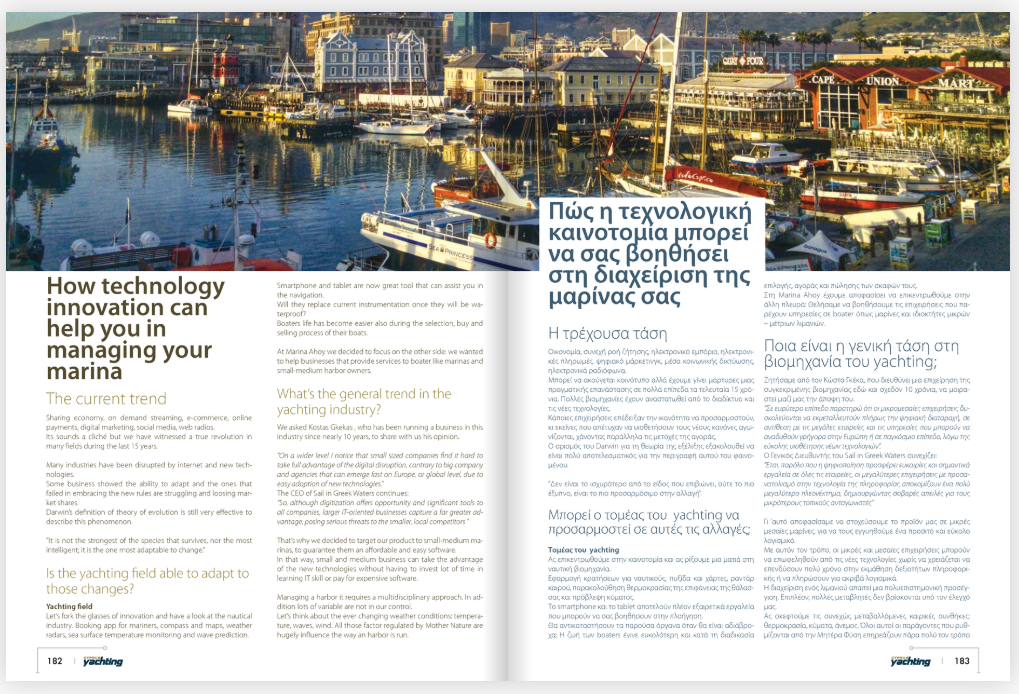 Marina Ahoy was mentioned in an article about innovation and marina
In 2019, we supported the International Boat Show of Seville, which celebrated the 500th anniversary of the first world circumnavigation by Magellan-Elcano.

The event was part of a national programme called "V centenario," which commemorates one of history's greatest maritime adventures.

Our main focus was creating and distributing press releases in Italian to various media outlets.
The press releases have been published by the following Italian media:
- Barche a motore
- Mondo barca maket
- Sailbiz
- Nautica.it
- Barche magazine
- Nautica report
- Il giornale della vela
- Non solo nautica
- Inautia
- Powerboat-world
- Sail-world
- Cosas de barcos
We also managed to include the Boat Show in the calendars of many online portals in Italy, Spain, France, and the UK.